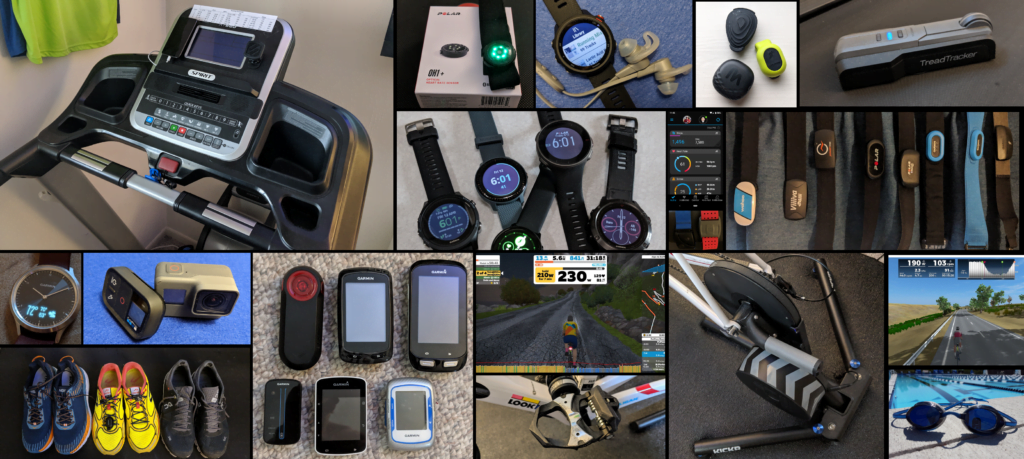 If you have any questions about my experience with any of these products, don't hesitate to ask. Also, if you're interested in purchasing any of the products mentioned in this post, using the Amazon affiliate links below supports the site and is greatly appreciated!
Garmin
Software
Miscellaneous
AlienWare Alpha – Primary platform for all the PC-based applications (ie: Zwift, TrainerRoad, Rouvy, etc.). Other than Spotify, there's nothing installed that's not fitness or training related.
Apple TV 4K – At this point, it's only running the ATV version of Zwift just to get some insight into how the platform handles it, but I may give Fulgaz a try sometime in the future.
Spirit XT285 Treadmill – I've never been a big fan of running on a treadmill, but it looks like Zwift can do for treadmill running what it did for indoor cycling. I'm definitely finding the convenience of getting in a quick run whenever the opportunity presents itself is a big benefit.
Polar Vantage V – It's been quite a few years since I've had a Polar device (other than the H7 HRM) so I thought I'd give their latest-and-greatest a try.  Can't say I'm overly impressed at this point. As a long-time fenix/Forerunner user, it seems like for every feature on the Vantage V that I really like, there are 2 or 3 things missing. Just doesn't seem like a finished product at this point. For example:

Structured swim workouts don't seem to have been designed by a swimmer. No options for type of rest interval (fixed duration, on the 30's, etc.), lengths in kilometers or miles.
No way to simply power-down the device. Since I don't wear it 24×7, I'd like to know it's fully charged when I do decide to use it.

Samsung Galaxy Active – Just checking it out to see how it compares. Probably won't be my everyday smartwatch and I suspect getting activity data off of it will be pain, but looks to be a nice watch at a good price–especially for the casual fitness enthusiast looking for a fairly full-featured smartwatch.
Polar H10 and H7 heart rate monitors. The H10 has recently received a firmware update that provides ANT+ capability making it one of the best choices of HRM straps available.
Polar OH1+ Optical Heart Rate Monitor – Polar's first entry into the ANT+ world. Other than the narrow strap which allows the sensor to flip over, no complaints.
Stryd Footpod – Being a data geek, the power measurement by the Stryd is pretty interesting. My primary reason for purchasing the Stryd, however, is it's accuracy on the treadmill when varying speed (ie: doing intervals). It's Bluetooth Smart and works very well with Zwift.
MilestonePod, ZwiftPod
TreadTracker – In my ongoing quest to determine the accuracy of my treadmill, I added the TreadTracker to my kit. From my preliminary tests, it looks like the belt speed is about 0.1 mph slower than what is displayed when "unloaded" (not actually running on the belt).  Once loaded, it drops anywhere from 0.2 mph to 0.3 mph.  The Stryd footpod, with no calibration offset, seems to be about 0.1 mph slower than the TreadTracker.  Based on this, I'm using a calibration of "065:064" in Zwift's prefs.xml and "101.50" in my Garmin fenix 5 for the Stryd footpod.  You'd think that a piece of machinery as expensive and simple as a treadmill could manage to keep the belt speed (whether loaded or unloaded) within a percent or two of the displayed speed.
Wahoo Kickr 2017
Wahoo Tickr – It's always nice to have a ANT+/BLE non-optical strap in the kit although the H10, with its recent update, is a slightly better choice.
Wahoo Bluetooth cadence sensor
GoPro Hero4, Hero5, and Hero7
Scosche Rhythm 24 – Been very reliable for running and cycling but still waiting for Scosche allow the store-and-sync mode to work with a Garmin wearable like the HRM-Swim and HRM-Tri straps.
4iii Viiiiva – A pretty good HRM in itself but it's real application is bridging ANT+ devices into a single Bluetooth signal for use with apps like Zwift on Apple TV which have limited Bluetooth channels.
Favero Assioma DUO power meter pedals. Of all the fitness tech that I've owned or reviewed, these pedals are by far the best if you simply go by the lack of complaints. It's hard to fault something "that just works" as expected. If you're in the market for affordable, reliable, and accurate power pedals, you won't be disappointed.
PowerTap PowerCal HRM/powermeter – Was mainly curious if it could be used as a power source for Zwift when using something like a stationary bike at a hotel. In my limited testing, it fluctuates way too much for Zwift. It might, however, give some reasonable data on real-world rides but, as you'd expect, it's definitely not a replacement for a real power meter/source. Really not worth the trouble and there are much better HRM straps available.
Oura Ring – How can HRV, accelerometers, temperature, Bluetooth, a week's worth of battery, and 6 weeks worth of data be packed into such a small package?
CorSense HRV Sensor – For use with EliteHRV.
OMRON BP654 Wireless Wrist Blood Pressure Monitor – Because everything is better with Bluetooth.
Jaybird X4 Wireless Sport Buetooth Headphones – Not quite sold on full/true wireless (ie: RUN XT) so, for the time-being, I'll stick with these. I get some occasional drop-outs with both the VA3M and the FR245M, but haven't quite figured out if its the headphones or the watch. At this point, I'm thinking it has something to do with my phone being within range even those the X4's are actively paired with the Garmin watch. Need to do a bit more troubleshooting.
Running
Hoka One One Clifton 5 – This is my primary running shoe, especially for longer outdoor runs.
Newton Fate and Newton Gravity
On Cloudflow – They've been getting good reviews so I thought I'd try something new. Started out using them mostly on the treadmill but have lately found their way onto more and more of my outdoor runs.
Cycling
Cervélo RS
Specialized Camber Elite 29er
Surly Disc Trucker (touring)
Cannondale T-700 (commuter, errands, quick run to the beach, etc.)
Arkel GT-54 and GT-18 Touring Panniers
Redshift Sports Aero System – On the Cervélo RS, of course.
Specialized Comp Road Shoes
Specialized Comp MTB Shoes
Thule Helium Aero 2 hitch rack
Swimming
Blue Seventy Reaction wetsuit. Hopefully 2018 will be the year that I conquer my open-water anxiety.
Roka SIM Elite neoprene shorts – Gives the feel of wearing a wetsuit without all the added warmth. Plus, sometimes it's just nice to use when I'm just wanting to take it a bit easier.
FINIS Freestyler and Iso hand paddles
FINIS Edge fins
Speedo Vanquisher 2.0 goggles
AMEO Powerbreather – Still haven't quite gotten comfortable with this thing.
Gone, but not Forgotten…
Litespeed Tachyon (replacement: Cervélo S1)
Cervélo S1 (replacement: Cervélo RS)
Garmin fēnix 3 (replacement: fēnix 5)
vívomove (replacement: vívomove HR) – Nice watch if you want traditional styling along with activity (ie: step) tracking. Unfortunately, I made the mistake of getting the black dial which includes black hands. Just too hard to read in poor light.
Specialized Tricross (replacement: Surly Disc Trucker) – The touring bike used for Lake Erie, Michigan, and Huron.
Garmin Forerunner 920XT (replacement: fēnix 3)
Mio LINK Optical HR Monitors (2) – Probably the first optical heart rate monitor I ever used.