Currituck – Knotts Island Loop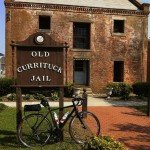 We all know what a "bucket list" is – those things you want to accomplish before you "kick the bucket".  I'm not sure if there's a name for things you want to do before the end of the year, but I had three:
Cycle from my house into False Cape State Park and camp at least one night.
A two-day bike ride around the Pamlico Sound staying overnight on Ocracoke
A day-ride through Chesapeake, down to Currituck, and taking the ferry over to Knotts Island for the return to Virginia Beach for a 85 mile loop.
Now it's down to two.  I spent a beautiful Sunday morning riding my new Specialized TriCross through the backroads of Chesapeake, into North Carolina, and catching the 11AM ferry over to Knotts Island.  The Garmin Edge 800's turn-by-turn navigation worked flawlessly and makes this type of ride through new terrain a real pleasure.
Expecting to spend about 6 hours on the bike and about 8 hours total, I wanted to carry a bit more food and gear than would comfortably fit in the pockets of a cycling jersey so I used a small (410 cu. inch) Performance "trunk bag".  It's just big enough for your wallet, phone, keys, and a couple of bananas – perfect for long day-trips.
As I get my gear ready for next year's Lake Superior tour, this was sort my "shake-down" cruise for the new bike.  The next test will probably be the 35 mile fully loaded ride down to False Cape State Park including the 4+ unpaved miles through Back Bay Wildlife Preserve. Depending on when Highway 12 reopens on Hatteras Island, I may still be able to knock out all three trips.