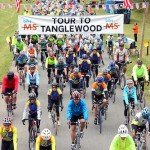 My what a difference 20 years can make!  The best I can remember, I first rode this event in 1992.  I had just begun cycling and I'm pretty sure we rode it on our mountain bikes. There probably weren't more than a couple hundred participants and the ride started at Guilford College, you spent the night at the Tanglewood campground, and returned to the College on Sunday. The event is now up to almost 2000 riders with each day beginning and ending at the park.  I was invited to join the St. Timothy's Episcopal Church Team which was organized and captained by an old WInston-Salem friend, Frances Miller.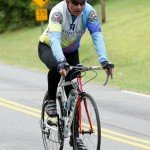 Saturday's route heads east toward Thomasville while Sunday's route heads west towards Yadkinville.  Most of the team chose the 50 mile routes each day and although weather was not perfect – cloudy and cool – we at least avoided the rain on Saturday and actually got some sunshine on Sunday. Both routes are nice, but most folks agree that Sunday's route goes through some of the prettiest areas in this part of North Carolina. Following the rides, the MS Society does a fantastic job of taking care of the participants with great food, beverage, entertainment, massage, and more.
Some Members of the St. Timothy's Team
[Not a valid template]
A big "thank you" to the team's sponsors that made it all possible:
And a special "thank you" to Theresa Garr of 
Keep in Touch Massage
 who provided post-ride massage to all the team members following Saturday's ride.