Bike'n, Kite'n, and Kayak'n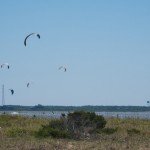 I ventured a bit further south this weekend and headed down to Cape Hatteras for a weekend of biking, kiting, and kayaking. The weather was great – clear, cool and windy! This brought the kiteboarders out in droves and literally filled the sky with kites in all the popular locations.  I camped at one of my favorite sites – the NPS campground at Frisco.  Even though it's an ocean-side campground, it has sites that are located far enough up the dunes that you can get a view of the ocean from your site. Several nice boardwalks provide easy access to the ocean and the beach is nice and wide. After setting up camp, I hit the beach and spent a couple hours flying my new Revolution REV 1.5.  What I fun kite! Unfortunately, I snapped a spar and now I'm anxiously awaiting for the replacements to arrive.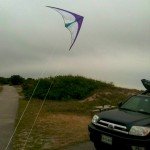 I got out reasonable early Saturday morning and biked down to Ocracoke (with a nice ride on the Hatteras/Ocracoke Ferry, of course.)  The wind was out of the south so I got the hard part over with in the morning.  While in Ocracoke, I picked up a new National Park Service and US Lighthouse Society passport stamp, had a snack, and then headed up to the beach across from the Ocracoke Pony Pasture for a little kite flying.  After about an hour flying the Snapshot 1.9, I headed back up to the ferry terminal got back to the campground around 2PM.  The rest of the afternoon was spent flying a variety of kites.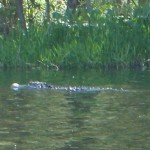 Sunday morning was still pretty windy so I spent about an hour flying the Snapshot 1.9 before breaking camp and heading over to Alligator River for a little paddling. There's a nice set of "paddling trails" there and I was hoping it would be a bit less windy.  Unfortunately, the wind was still pretty stiff on the lake so after a couple of miles along the shore, I took the "red trail" back to the launch site. Along the way, however, I did slip up on a 'gator. As usual, I was almost on top of him before realizing it wasn't just a floating log. I quickly backed up and eased a bit further from the shore and was able to drift along beside him for about 30 to 40 yards (keeping a safe distance, of course) before he submerged. I'd guess he was about an 8-10 footer.
On the way home, I stopped at Jockeys Ridge and gave the Beamer IV 2.0 a try.  It was still windy so after an hour of getting my butt dragged over the dune, I packed up and headed home.