Christmas in Zion and Bryce National Parks
I decided to try something a little different this Christmas and do some active traveling.  Much of the local family was also away so I booked a cheap flight to Las Vegas, rented a car, and drove up to Utah to spend some time checking out Zion and Bryce National Parks.
I arrived on Sunday but unfortunately the airline decided my checked luggage would rather go to Hartford, Connecticut which left me with nothing but the clothes I was wearing and a few items in my carry-on backpack.  There was some snow predicted for Tuesday so I decided that Monday would be a good day to drive over to Bryce National Park while I waited for the airline to track down and deliver my gear.  Fortunately I had my backpack and heavy jacket so I was still able to do a bit of hiking in the canyon. I quickly realized what a big difference the snow can make.  Normally paved trails were reverted back to a more natural state not experienced by most of the visitors to the park. Even without being able to venture more than a few miles from the parking area, the scenery and views were nothing short of fantastic.
The rest of the week was spent hiking in Zion National Park culminating in a climb to Observation Point.  Four miles and 2100 feet of climbing presented a simply breathtaking view of Zion Canyon.
What an interesting time of year to explore these parks.  There's nothing like having a National Park all to yourself and being there with a couple of feet of snow was great.  As I told the folks at Zion Adventure Company, this visit is going to leave me with a unique view of the canyons.  I had to keep reminding myself that I was in a desert environment and that most folks battle extreme temperatures while I spent almost the entire time hiking on snow and ice.  Looking up at the canyon walls, it was hard to come up a description other than "majestic."  And although I didn't make it into the narrows, I thoroughly enjoyed my visit and would have no problem returning some time in the future.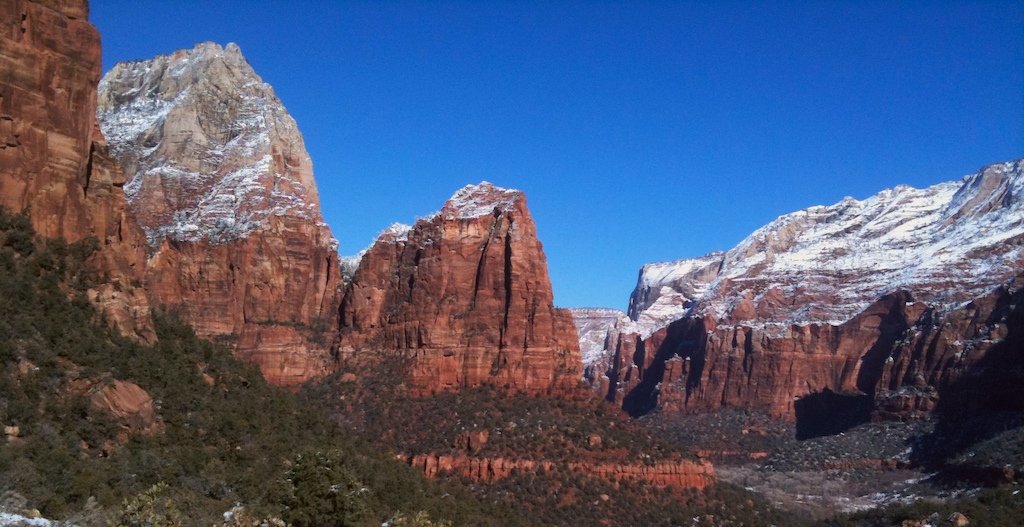 Heading back to Vegas for my Saturday night red-eye flight, I made a detour up to Kolob Canyons and then spent a few hours checking out Valley of Fire State Park in Nevada. I'm looking forward to getting back to Utah although my next visit will most likely involve mountain biking around Moab.
[Not a valid template]