Hiking Old Rag in Shenandoah, NP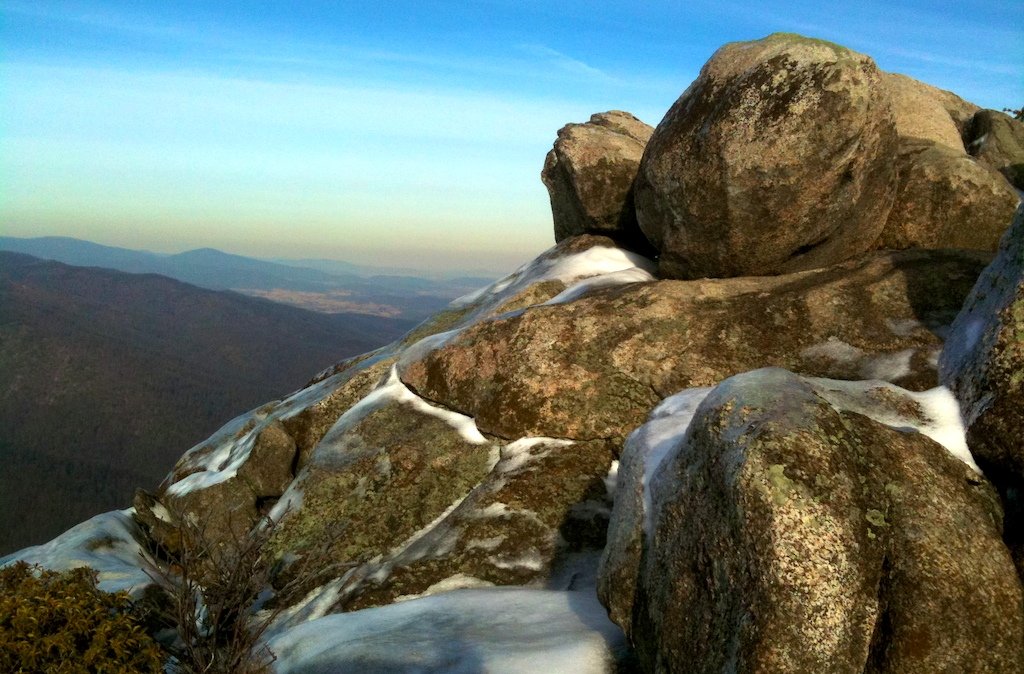 I'd been wanting to get up to Shenandoah National Park and check out the classic hike to the summit of "Old Rag" for quite a while so when the weekend opened up, I hitched up the camper, picked up a pal, and hit the road Friday afternoon.  We found a little campground that was open year-round – Cedar Mountain Campground – and pulled in a little before 7PM.
Fortunately, we got an early start Saturday morning because we weren't really that close to the trailhead nor was it particularly easy to find from our direction.  We eventually pulled into the Berry Hollow parking area, loaded up our packs, and hit the trail.  The Berry Hollow fire road, after a little less than a mile, joins the Weakley Hollow fire road to begin the typical Old Rag loop hike.  Fortunately we chose to hike the loop in the clockwise direction as the most challenging section of the climb is from the northern parking area to the summit.  Beginning at about 3 miles and a low point of about 1000 feet, you climb steadily for 4.5 miles to the summit at just over 3200 feet. This is a challenging climb in any condition but add a half inch of ice and the summit becomes a real struggle.  Neither of us brought crampons (chalk that up as a lesson learned) and there were several scrambles that would have been considerably easier (and safer) with them.   The descent is an easy 3 miles dropping 1700 feet back to the trailhead for a total hike of just over 11 miles.
With its proximity to northern Virginia, this is one of the most popular hikes in the Shenandoah National Park and even in January, there were probably a hundred hikers scattered throughout the loop.  I can't imagine what the crowd would be like during the Spring or Fall. Regardless of the season, I highly recommend this hike.  But, if you have the option, avoid the crowds check it out during the winter – just be sure to bring the crampons!
[Not a valid template]