Lake Superior Route Planning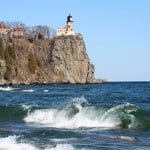 It's never too early to start planning the next bike tour and it's a great way to get through those cold and dark winter evenings waiting for Spring to come back around.
I'm in the very early stages of planning my route around Lake Superior, tentatively scheduled for late Spring of next year.  So far, it looks like 9 days from Sault Ste. Marie, through Duluth, and hitting Thunder Bay on the 10th day.  Then it's 7 days in Canada and just like the Lake Huron tour, a lot of the Trans-Canada Highway. This time, however, I'm hoping to find some alternative routes–even if it means a bit more mileage and non-paved roads. I've outfitted a Surly Disc Trucker (steel frame) that should be up to the task. I just need to make sure that I'm up to the task as well. I suspect the Canadian side of the lake will likely be the most challenging of all 5 lakes.