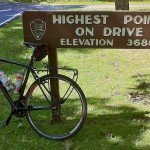 Attending a conference in Waynesboro on Friday and Saturday left me with an opportunity to get in a little road cycling outside of my normal flat terrain so I added the bike and a bit a camping gear to the packing list and headed north. At the conclusion of Saturday's meeting, I drove up the Skyline drive to Loft Mountain campground (milepost 79) and set up the new MSR Hubba Hubba tent. Sunset was a couple hours away so I decided to get in a ride heading back south from the campground and then go north on Sunday morning. It had been quite a few years since I'd done any serious riding on the Blue Ridge Parkway so I brought the Specialized TriCross just in case I had to bail out and use that 3rd chainring. As it turns out, the steepest climb was from the Skyline Drive back up to the campground – about 500 feet in 1.6 miles. As much as I wanted to, I was able to stay in the middle ring on the steepest sections which felt pretty good for an "old beach guy".
On Sunday morning I decided to drive up to Big Meadows and start the ride from the visitor center. This section had the added perk of passing the highest point on the Skyline Drive at 3,680 feet. As you can see from the elevation profile, you're either climbing or descending – the moment you reach the top of climb, you're immediately descending down the other side.
Just under 50 miles of riding, about 4,700 feet of climbing, and some great scenery. A nice change of pace from my usual road riding.