Some More Bike'n and Kite'n on the Outer Banks
The weather forecast for this weekend was too good to pass up so I made my fifth roadtrip in six weeks and my fourth to the Outer Banks.  On the way down, I made a little detour up to Corolla and added the Currituck Lighthouse to my US Lighthouse Passport.  Getting to Oregon Inlet Campground in late afternoon, I set up camp, grabbed the REV 1.5 and headed down to the beach below Oregon Inlet and spent the afternoon trying to master quad-line kiting. I finished the night with a pound of steamed shrimp at the OBX classic raw bar – "Awful Arthur's."
The wind really kicked up during the night and it was still averaging over 20 mph Saturday morning but I had planned on a long bike ride so I got out early and headed off to Manns Harbor. It took me 32 minutes to cross the 5 mile long Virginia Dare Memorial Bridge over to Manns Harbor. I actually had to pedal down the high-rise just to keep moving. Heading east, however, over the old Manns Harbor Bridge back to Roanoke Island, I cruised along at 25 to 30 mph and covered the 2.7 miles in 7 minutes (including a stop for a flagman and some maintenance workers). In order to get in 50 miles, I headed down to Wanchese before finishing a grueling 7 miles into the wind back to Oregon Inlet.  I ended up with 55 miles in just under 4 hours – my longest ride of the season.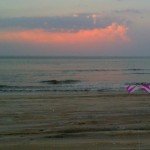 After a taking a cold shower, drinking a cold beer, and relaxing for little while, I drove back over to Manteo and pick up my 8th lighthouse stamp for the Roanoke Marshes Lightstation. The wind was still up so I grabbed the REV and hit the beach at the campground for some more quad line flying. The afternoon ended with a beautiful sunset as well.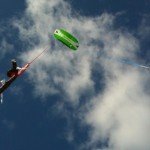 Sunday was a bit calmer so I headed down to Oregon Inlet with the Beamer 2.0 for some power kiting. I haven't had much opportunity to work with the quad line power kites (just too windy for my taste) so I decided to just stay with the 2 meter.  As it turns out, I probably could have flown the 5 meter but the 2 meter was still able to give some good pulls.
Since the campground was practically empty on the "C" loop, I was able to fly the REV for another hour before breaking camp and checking out right at noon. Another great weekend on the Outer Banks!